Thursday, October 22, 2015 - 04:20 PM UTC
Crimson Model and Hobbies is now open for business! With a growing selection of kits and accessories, Crimson Model and Hobbies caters to modelers and hobby enthusiasts!
Rolltide31 cuts the ribbon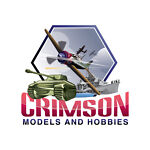 "While I may not be able to always guarantee the lowest prices I will guarantee competitive prices, fast shipping, and responsive customer service. If you would like me to offer a specific product feel free to send me a message and I will do what I can." ~ Dave (Rolltide31)
Crimson Model and Hobbies is a Veteran owned and operated hobby store for modelers and hobby enthusiasts. Crimson is continuing to expand their product listing. Currently several well know-products are already offered by Crimson:
•
FlyHawk
• Pavla
• Master Model
• Merit
• AFV
• Eduard
• Blackdog
• Aliiance Model Works

A brief scroll through the site finds many other model companies represented.

Link to the Crimson Model and Hobby Ebay Store

Follow them on Ebay as more items are listed!!
Get a daily email with links to all our latest news, reviews, and features.
THIS STORY HAS BEEN READ 4,633 TIMES.